LIFE ON THE SEPIK RIVER
East Sepik Province has large landforms that include swampland, tropical rainforest and mountains, yet the geography is dominated by the Sepik River, one of the largest rivers in the world in terms of water flow.  The River was once a vital source of food, clean water, transportation and wood.  HEAPS work is on the Keram River or Yuat River which is 41.15 kilometres long; access to this area is only by banana boat or local wooden canoe.
The local villagers live in a fragile ecosystem and are exposed to life-threatening challenges as a result of environmental degradation. With the change in seasons, along with the introduction of mining and logging operations, the forest, river and wetland have been threatened. These factors have endangered the once pristine status of the river system. The villagers have been severely affected and are losing that which defines the river societies and livelihood.
The villagers live in  double level stilt homes made from natural materials with light structure and heavy thatched rooves, each house is built in a style which is traditionally designed to accomodate to the rise and fall of the river.  Please click on the images for a larger view.
Map showing the East Sepik Province.
Wewak the provincial capital and Angoram town of Angoram District.
Up the Sepik River to Blackwater River to Wom and adjacent villages.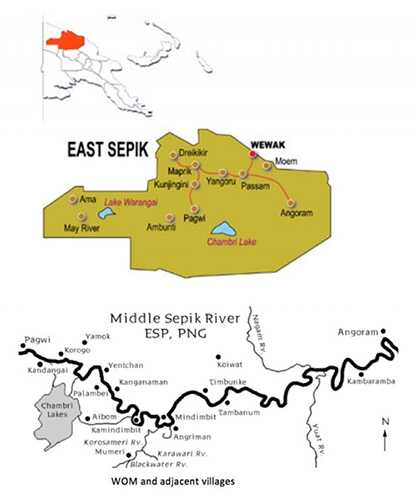 WELCOME TO OUR WORLD